---
18 JULY 2000
Here is a very happy smile!

Rebecca has been spending the last couple of days sitting in a car seat at the nurses station. She has been getting a ton of attention. The nurses took pictures for us.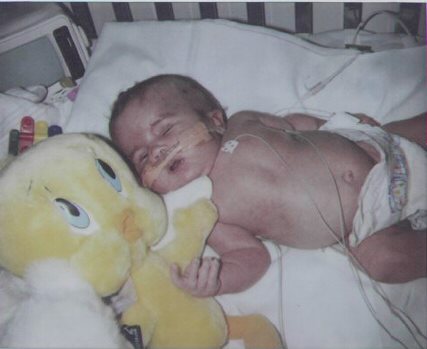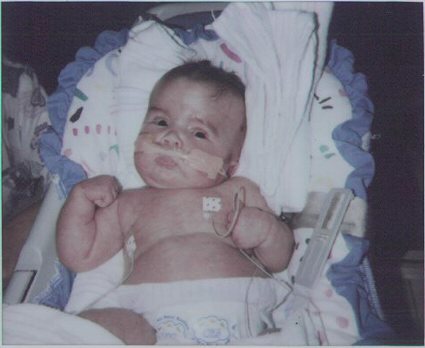 We usually get there in the evenings, so she was all tuckered out when we got in. I broke a rule and woke her up. She was very glad to see us, although mommy got all the smiles this time. She will probably go to Egleston on Thursday. She will come home soon we hope.

20 JULY 2000

Rebecca had rice cereal today. It is a little early to start cereal, but it is helping her learn to swallow. She is now being given extra stimulation during her waking hours, she is also sleeping through the night. This is to get her more acustomed to home life. She is growing stronger and more "normal" every day now. Praise the Lord! We are still waiting for a bed at Egelston for her. Soon.
---
22 JULY 2000

Yesterday afternoon, I went in to play with Rebecca, she has a whole list of exercises she has to do, to help with her developement. Such as encouraging her to kick and to grasp things like a rattle for instance. She loves to be sung to as well. This evening she was asleep, so I helped with her feeding, and took her temperature. She was a little chilly so I covered her up. Jenn bought two outfits and a blanket.

23 JULY 2000

Rebecca was lieing down for her evening feeding, so we held her, and talked to her. If you touch her hand she will grab your finger and pull it to herself, this is something new and very encouraging. Dr. V will call Egelston on Monday and see what is going on.

24 JULY 2000

We had a great evening with Rebecca, she was all smiles and very responsive, we took several pictures. She was very happy, it was a special day, because she is now 4 months old.

25 JULY 2000

The phone rang this morning, Rebecca had been transported to Egelston. All of her tests are done, she will have open heart surgery tomorrow morning early. Please keep this in prayer, this is a very dangerous surgery. We have heard that Dr. Videlefski will assist Dr. Tam which is a plus. Dr. V is the premier Neonatal cardiologist for this region, Dr. Tam of course teaches this kind of surgery at Emory University. The Lord has put the best men in place.
---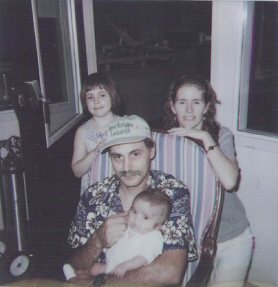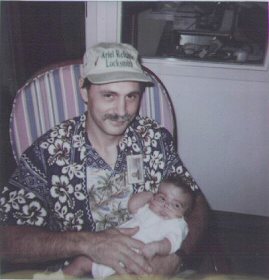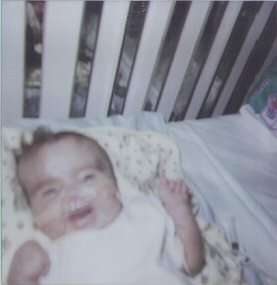 SMILES!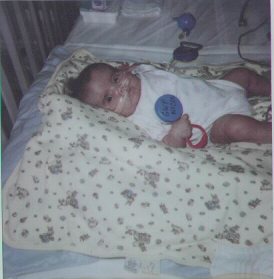 SHE IS HOLDING THIS RATTLE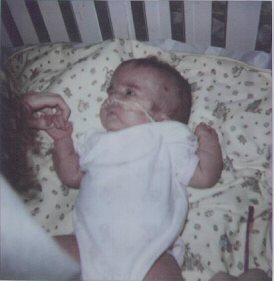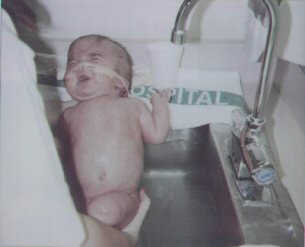 ---
Links
BACK TO PAGE 1
GOT JESUS?
Rebecca's Family

Last Update Page:
NEXT Update Page:
First page pictures:
Second Page Pictures:
Third Page Pictures:
PICS4
PICS5
PICS6:
---

visitor #

---

1244 Ridge Road
Lawrenceville GA 30043-1244
770-338-7379
---
---
THE HEART

Atrial Septal Defect

Ventricular Septal Defect



What is Hydrocephalus?