---
13 AUG 2000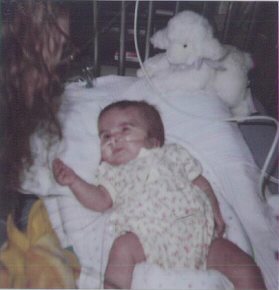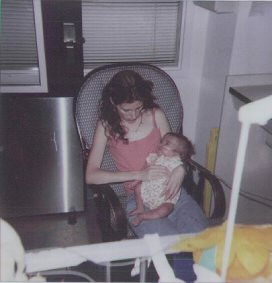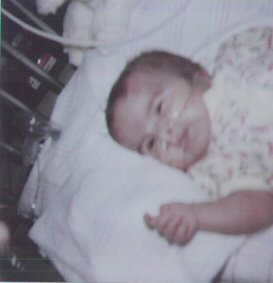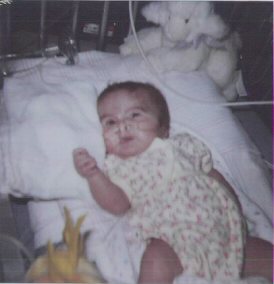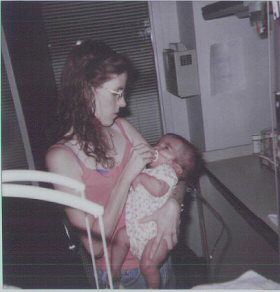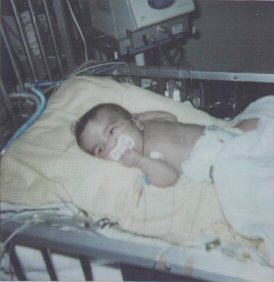 Rebecca was in a very good mood tonight, she loved being held and being sung to. She had a bath tonight which she didn't like, but she's clean any way. The best part of all was when the nurse came in and said that she would be coming home Friday!!! The news doesn't get much better than that.

16AUG2000

We spent the day with Rebecca at the hospital. She smiled almost the whole time. Tomorrow we will be there again. We will meet with the home health nurse. This evening Rebecca took her entire bottle! We are hoping she will be comepletely off supplemental oxygen by Friday, impossible? Not with Jesus.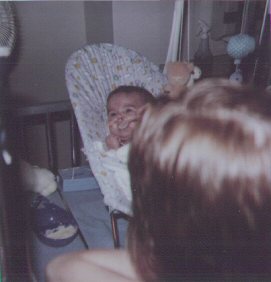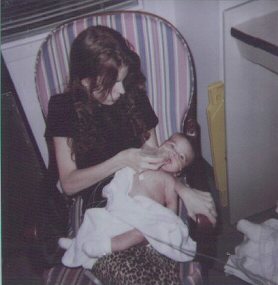 ---
18-19 AUGUST 2000

HOME!
Well it took some doing, mix ups with equipment, but at 9:30PM we walked into the house with Rebecca. I had spent the entire day at the hospital with her, there were many sad good-byes, she had been there a while.Yesterday marked 147 days, 21 weeks. She has been bottle feeding all meals since Thursday. She pulled her feeding tube out today, we did not put it back in. She takes a little oxygen and has a pulse-oxymeter on her big toe, a few medications, she will go to church for the first time tomorrow.
---
22 AUGUST 2000

Rebecca has not been giving her all at eating, or perhaps she has given all. It is very hard work for babies to eat, she would just get so tired, so we put her ng tube back in. We feed her until she gets tired and put the rest in the bag pump, we need to see that she gets strong enough to do this every time. She has gotten a lot of excess stimulation, in the from of her brother and her sisters, which contribute to her being tired out. She does her best though. Still pitching fits, of course not like the ones she used to have. She is much easier to calm. We have decreased her oxygen a little more, she is keeping her stats pretty high, we will probably go down a little more in a few days, very slowly. It is wonderful to have her home, something we have been waiting, hoping and praying for these many months, she has a lot of appointments this week with all different manner of Dr.s, we expect a good report!

23 AUG 2000

Rebecca is off the oxygen!! She has been keeping her stats well above the minimum and doing well, she is not working hard, just doing it! She would much rather eat her fingers than eat the bottle though. She has been moving her left hand and foot around, while her right side stays still, which is good. She does not fuss when we put her facing straight up (midline) but rather smiles. She still tries to turn back to the right. Wonderful, Isn't He?

28 AUG 2000

We are so pleased that Rebecca sleeps the whole night through. It is sort of odd to bring a baby home and not be getting up for 3 AM feedings, but it is a nice blessing as well. Yesterday Rebecca rolled over on her tummy, which is encouraging in two ways, the fact that she is doing it at all, and that she does not or rather did not like to be on her tummy! She is full of smiles all the time, today she went for a short outing over to the store and her Uncle Kerry's house, her stats actually got higher when she was in the car. she still requires a lot of care and attention, only Gabrielle (18 mos) seems to be jealous. It's been a great week.
---
4 SEPT 2000

A wonderful week, Rebecca is once more off of her oxygen. She is getting a little physical therapy from one of the neighbors and doing quite well. We have been able to get her off of her right side and she lifts up her head by herself, a little wobbly, but it is indeed progress. She is constantly pulling her feeding tube apart, so we have had to tape the ends together while she is getting her formula. When she got her bath today, she smiled through the whole ordeal, she used to really pitch a fit, what a relief!

7 SEPT 2000

On the night of the 4th, Becca was having a little cough. We went to the on call MD who gave us some anti-biotics. She got worse during the night so on Wednesday we took her to the pediatrician. She was diagnosed with Chronic Lung Disease. This requires breathing treatments for several months. Today she went for an office visit to Dr. Vidalefsky, he came in the room and immediately sent her to the ER. An ambulance came from Egleston and she was taken to the PICU. She possibly has RSV, which for an adult is like a cold. For an infant it can be deadly. Jennifer and I have probably slept about 12 hours total in the last 3 days, and we will probably be down in Atlanta almost all weekend. They expect that she will move into the regular Pediatric ward by Saturday.

9 SEPT 00

Rebecca did not get to go to Pediatrics today. The Dr. did an echo and found an infection on her tricuspid valve, a spot on her lung as well. She was given breathing treatments yesterday they did not see any noticeable change. She is taking vancomycin to clear up the infection. She seems cheerful mostly, but we could here her rasping from across the room, and we can tell she does not feel well. Rebecca is very brave. Even with all the other children, the house seems empty with her gone.

11 SEPT 00

Rebecca was moved to the pediatrics ward today! All of her tests have come out negative which is good in a way, but we still don't know what the stuff on her heart is. Her wheezing is much better, and she is very smiley! The spot on her lung, they feel, is just a pocket of fluid. The hospital has been keeping her on her same schedule she has at home and she should be home by the end of the week! So Praise the Lord!

13 SEPT 00

I spoke with the Dr. today. They took an echo of the heart and failed to see any vegetation of bacteria!! Not all good news though. They will be running tests to see if she is refluxing, they think this might explain the pocket of fluid on the lung, if so, and they haven't said yet, it will have to be corrected surgically, since (if this is the case)the medication is not doing it's job. She is having a procedure done called a 'Pic' line. this is threaded through the arm in a vein into the heart, it is an IV line which is not an arterial line, since it goes through veins. It is one that will last longer than a regular IV. She is there at least through the weekend.
---
14 SEPT 00

Not much change, Rebecca is feeling a little better, not wheezing any more. She is being kept to run the reflux tests, hopefully done soon. I waited for the Lord On High.
---
Links
NEXT PAGE
BACK TO PAGE 1
GOT JESUS?
Rebecca's Family

Last Update Page:
NEXT Update Page:
First page pictures:
Second Page Pictures:
Third Page Pictures:
PICS4
PICS5
PICS6:
---

visitor #

---

1244 Ridge Road
Lawrenceville GA 30043-1244
770-338-7379
---


What is Hydrocephalus?