---

---
2 NOVEMBER 2000

There are many new things we need to do for her,, she will be getting albuterol treatments, and we have to "thump" her after wards, this helps keep the lung from colapsing, not that it would totally collapse, it just helps to keep it all the way open. Rebecca is on new formula, and we will have to mix extra calories in as well to supplement. She will have a slew of new doctors as well, a Gastrointestinalist, a Pulmonologist and the list goes goes on, an adventure before us, Praise the LORD!

4 NOVEMBER 2000

It was a long time getting her home, when Jennifer got to the hospital, she foujnd that a cleaner had taken the monitor and the oxygen out of the car, she had to go back and get them, it took 3 hours in traffic. The Hospital had broken the car seat, so they had to find another. Finally after all this around 10 PM she came in the door. All of our excitement was quickly deflated yesterday, when she was returned because of her fever which just would not go down, it was 104* and 105*. She is being kept again for observation. All in all a very major setback. Please feel welcome to call or write.
---
8 NOVEMBER 2000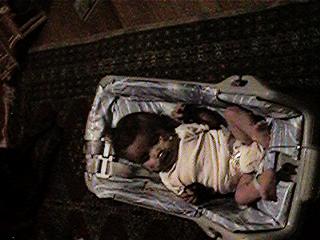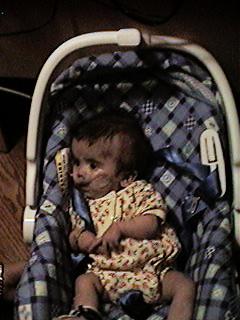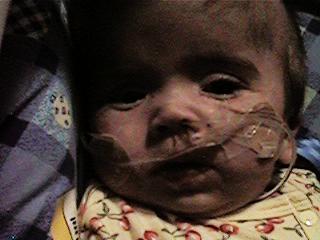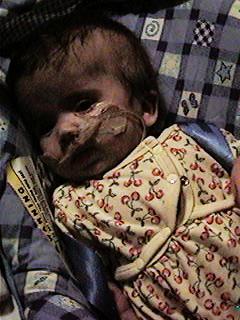 Guess Who is Back Home?
---
20 NOVEMBER 2000

Rebecca has been off of oxygen for 4 days but had to go back on it tonight, she possibly has low platelet count, we are waiting to hear news on that.

14 DECEMBER 2000

Rebecca had surgery yesterday to put a stomach tube in rather than using the NG tube she has been on. She came out of surgery and was immediately taken off the vent and oxygen too! Tomorrow she will be getting a heart catheter to check that all the repairs are done and everything is still good in the heart. She should be home soon. Again.

18 DECEMBER 2000

Everything went well with the surgery, but now Rebecca is aspirating, so they will have to surgically correct the reflux, I am not quite sure how this is done, but it is another surgery happening soon, she is still in hospital, I miss her very much.
25 JANUARY 2001
Hope y'all didn't miss me, I have been away since just after Christmas. I am encouraged by the many e-mails I have recieved inquiring after Rebecca, I finally got all of them answered. Rebecca had been having the fevers, she was down to only one site left for an IV to be inserted, they were going to hold off on using it until it became vital. She was down to her last legs, they had tried several times to insert a central line, even trying to go through her liver. Dr. Snitz decided to try one more time to test for the reflux, it had been negative every time, but he knew something was wrong. In fact, her NG tube had been removed and a stomach tube had been put in. She was still aspirating though. Well, the test came out positive, the surgery was done and she came home. It was a happy time, unfortunately to be short lived. She had stopped the fevers while in the hospital after surgery. On returning home, they began again. She developed a cough, and one morning she was purple and gasping for her breath. She was returned to Atlanta, where it was found she had pneumonia. She already has chronic lung disease, the x-rays showed a tremendous amount of fluid on her lungs and several spots. As of now all the fluid is gone, but she is left with a collapsed lung. The reflux surgery will keep her from aspirating fluid back into her lungs. Which in turn will cause her to be able to eat more and again in turn, she will grow, the small tube which connects the throat to the bronchii, has a condition which causes it to compress, she must grow for this to be corrected, this may be the answer to everything. In other news, there is no divorce happening here, yet tremendous fervent prayer is needed, we are yet apart, and also Abigail who is 7 is now at a mental health facility, she is deeply disturbed, we ask of you all to diligently hold her up in prayer. When it rains, it pours. Also our God is able to pour His blessings out, everything is in His hands, the very hands which formed us from the dust of the earth, the mouth that spoke the entire universe into being, the very same which breathed life into the dust, and again through Jesus the Christ breathed the Holy Spirit into us, can and will speak healing, His Word shall not return again to Him void, but will accomplish His purpose, that is our premise, our foundation, our hope, and what great hope we have in ALL things through our faith in Jesus, with His Spirit our guarantee. We are totally persuaded that she will live and not die, as we look back over the past 10 months, we see the many many miracles that God has wrought throughout, His hand is not shortened, His ear is not deaf, He indeed hears us, thank you all for your continued prayers, we are blessed our entire family, thank God for you.
---
4 FEB 2001

We went to see Rebecca last night, she seemed happy and playful, although she had had a very bad day. She is in an oxygen tent, when we asked to hold her, her stats went down rather quickly, so she had to be put back inside. She is recieving albuterol breathing treatments every 3 hours, to keep the airway from collapsing, it is just very weak, but as she grows, it will right itself. She is getting good nutrition now and she is so BIG! So soon, hopefully, she will be better, when her lungs collapse she goes back on CPAP (Constant Positive Air Pressure) which holds everything open.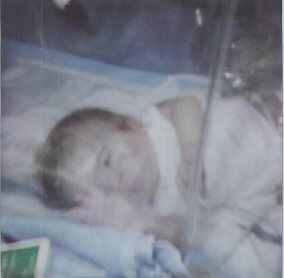 Rebecca waving hello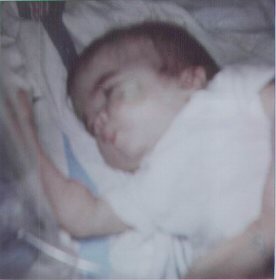 She is fascinated by something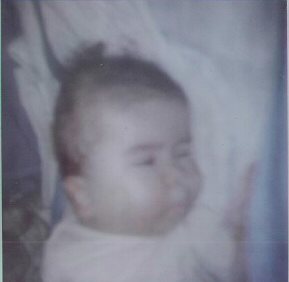 Here I called to her and she rolled over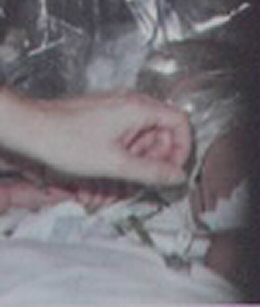 Here she is in the tent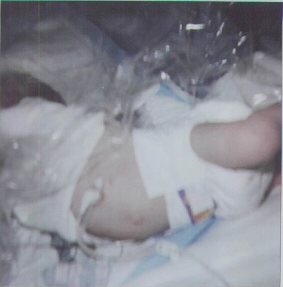 Here is her stomach feeding tube
---
8 FEB 2001

Rebecca has moved back into the PICU, she has been intubated, she also has RSV, which is a virus, it acts like a cold in an adult, but in children it can be deadly, we have had two children hospitalized with it in the past, there has been no improvement. They have moved up her oxygen from 45% to 50%. This is a very bad developement, please continue to pray.
---
9 FEB 2001

Rebecca is dieing. We were called down to meet with one of her Dr.s, a nurse and a social worker. They seem to feel that if the RSV does not clear up over the weekend, then they would like us to sign a DNR (Do Not Resuscitate) Order. Right now the machines are doing all the work of her breathing. The RSV on top of everything else; the chronic lung disease, the collapsing lungs and the narrow bronchii. She just can't do it, if the RSV will clear up, she will be able to breathe again. She can breathe now but the work of it makes her stop breathing, she also must be paralyzed to prevent her from breathing over the ventilator. Jennifer and I are just overwhelmed and our hearts are broken, she cannot move and does not know we are there because of the medication, she is all puffy and swollen from the fluid build up, we beg your fervent prayer, God made her, God can heal her, He is the only One, we are pleading with you to stand in the gap for her.

9 FEB 2001

11:33 PM Rebecca is being put on a oscillator ventilator. It can breathe for her 600-1200 times per minute. Her lungs are very sick and not very compliant, so pressure has had to be increased. This machine allows the oxygen to get in without having to have such high pressure. Her stats had been dropping steadily for the last hour, they are down to 87% oxygen saturation. They will call us within an hour if there is no improvement, and we will drive down to Atlanta to make arrangements. The Lord's hand is not shortened that He cannot save.
---
10 FEB 2001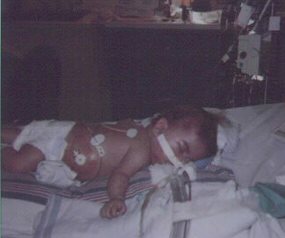 We have been at it since the wee hours, we all got a little rest, I went to work a little this morning. Rebecca had her x-ray last night, not good. There is bacteria growing in her lungs now, she is getting anti-biotics for that. They have taken away her sedation, to wake her up so she can see us. What is happening is that she is very swollen, her secondary vascular system is shutting down, to shunt the blood to her vital organs, such as the heart and brain. Therefore she is very cold on her wee fingers and her legs. Since there is not a lot of blood out in the skin and other extremeties to move the fluids away, she is very swollen, her nose appears as if sunk into her face, the swelling is just unbelievable. Another effect of this is that it is taking a very long time for the sedation to wear off, she is still not awake. Her heart is very dysrythmic, it is getting very tired from all the strain, it is possible that she might pass tonight, not too very, but possible. We do know that God can still heal her, we know that it is very dark right now, but the light is always there at the end of the tunnel. Crying may last the night, but in the morning comes JOY. We also know that death is the ultimate healing, for there is no more sickness, in the Kingdom there is no more sorrow, no more tears, but JOY forever more. Still this is hard and trying on us, we are weakened with so many tears. Today, I had to explain to the three oldest girls what is happening, each one a different age, each explanation a little different, this, in my life has been the hardest thing I have ever had to do. I believe that there are harder things coming, and I still wait, and hope, I do not believe that God is finished yet.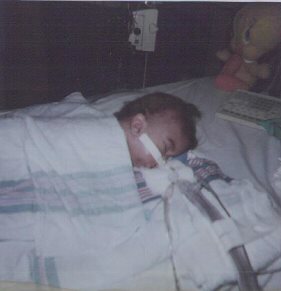 ---
11 FEB 2001

Rebecca is much the same this morning, it is probable that she will not wake up. She has fought a good fight. We are always hopeful that there is some fight left, and always knowing that the Lord our God is our strength. The Lord is Rebecca's strength.

11 FEB 2001

Rebecca has moved a l;ittle but is still unconcious. She has shrugged her shoulder pulled her tongue in and out and, moved her legs, it is still a wait and see day, her stats have been dropping and her oxygen had to go back up right now her stats are fluctuating, I can hear the alarm from her room.
NEXT PAGE
---
---
LINKS
NEXT UPDATE PAGE
BACK TO PAGE 1
GOT JESUS?
Rebecca's Family

Last Update Page:
First page pictures:
Second Page Pictures:
Third Page Pictures:
PICS4
PICS5
PICS6:
---

visitor #

---

1244 Ridge Road
Lawrenceville GA 30043-1244
770-338-7379
---

What is Hydrocephalus?