---



11 FEB 2001

Rebecca's stats continued to dip and dip, she was down to 40% oxygen, but through the course of the evening, she was pusshed back up to 80%. She has shown no more response. But her heart is beating strong, and when I left her stats were at 93%, for the last 2 hours. Monday the decision is made to put her on the regular ventilator, if she doesn't tolerate it, she will go back on the oscillator, if she does well for several hours, but then turns back, she will still stay on the regular vent, until the end, which could be very fast, God still heals.







12 FEB 2001

I got the call early this morning, Rebecca is on her way home to be with Jesus, I am on my way right now to see her before she goes.
---
12 FEB 2001

Rebecca went to be with the Lord tonight, just before 9 PM, we washed her and held her and kissed her for a very long time, then we carried her outside and turned her body over to the funeral home. She has gone to be with Jesus, she left peacefully, into her rest.
---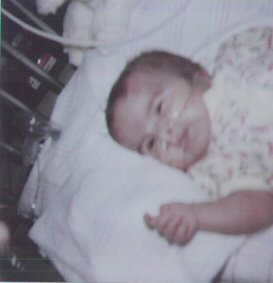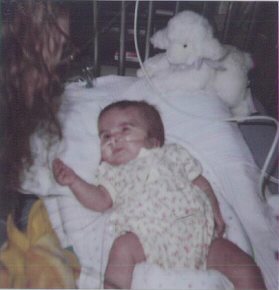 ---
15 FEBRUARY 2001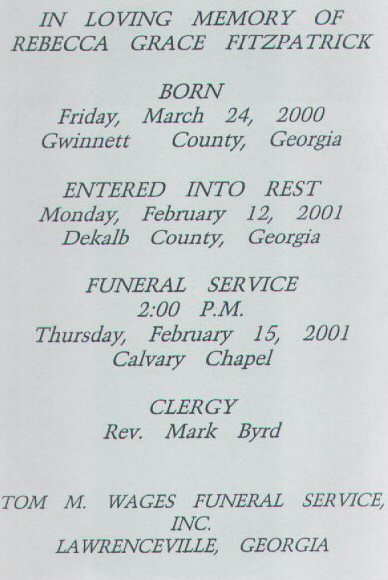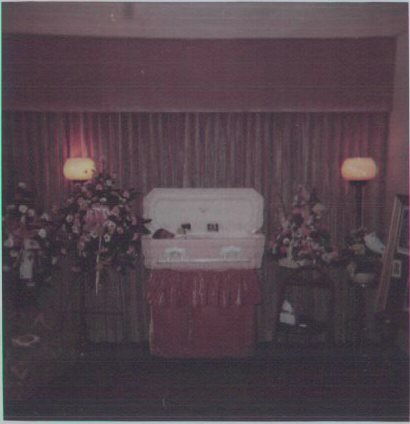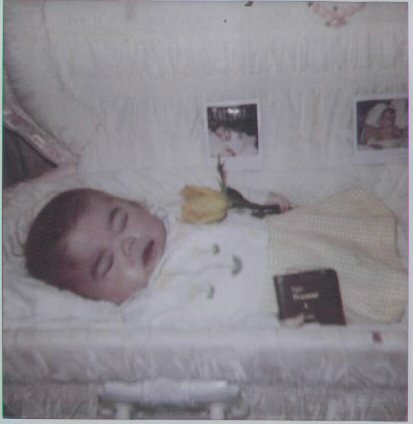 REBECCA'S EULOGY
Rebecca came to me as a stranger, I didn't know how to love her. God put a love for her in my heart. He made her, frail and weak, so we had to go to Him for her strength, and strength for ourselves. God showed His hand of mercy to her, He showed His hand of love. And He showed His hand of power. So many, many miracles, unexplainable things, we know God was with her, she was in His hands all along, and we know with certainty, that she is in His arms even now, and forever. Of all the things that I want for my children, I want them to be used by God, Rebecca was used by God, People seeing her on the internet, all over the world, would write to her, over 2000 of them, I answered each one, they would express how seeing the Lord at work in Rebecca's life had actually increased their faith, the wonder of the miracles, and some said that Jennifer's faith and my own faith had increased their faith, but it was God who used Rebecca to minister hope and faith to us. Through all of this I have gained faith I did not have ever, and I still have it. Rebecca was healed, every whit whole, she will never be sick again. We discovered that we had a family other than those gathered here today, the sheer numbers of brothers and sisters all around the globe, was mind boggling, and you see Rebecca came to them as a stranger as well, but they loved her, do you know why? Because they Loved Jesus, and Jesus loved Rebecca, that was the only thing that mattered, the only thing that should matter, this is what Rebecca taught me, we were constantly encouraged and strengthened, by strangers, yet not strangers, but rather brothers and sisters by blood, who stood by us, from at least 14 different countries that we know of, from many different languages, and so many countless others whom we do not know, so many of these people were only the spokesmen from larger groups, all standing in the gap, guarding the breech. When we were weak they showered us with strength from the Lord, all because of this little one, Rebecca was indeed used of God, how much prouder could a father be? She fought such a fight, and I was pleading at the end that she would win, and she really did, she did win, she has won a crown, that I could surpass, or even come close to, in my 35 years what she has accomplished in 11 short months. There was a special bond between Rebecca and her mother, Rebecca in the womb had many problems, Jennifer had to take special precautions during the pregnancy, there was a lot of worry, nights spent in the hospital monitoring the baby. Every mother's worst fears. When she was born, she was taken from her mother's arms immediately, she required intensive care. When she finally came home, it was the happiest day of her life, and then she was taken away from her once again, this was to be repeated over and over. Even at home she required special care, Jennifer had to learn about oxygen tanks and feeding tubes. But through it all Rebecca was patient, and loving, she always had smiles for mommy, and a laugh that was for no one else, Jennifer would drive a 70 mile round trip each day just to see her when she was away from us, Rebecca knew her mother loved her. We love her dearly, we miss her, it was an agony and still is to have seen her in such pain, even then the decision to give her back to the Lord, was hard, it took several days, but the Lord gave us wisdom, still it was the hardest thing we ever had to do. But now, there are no more tears, no more sorrows, we cannot hold her, she is safe in Jesus' arms. We know that she pleased God so well that He took her, she was raised up for this purpose, and what other purposes we don't know, but we do know that she fulfilled it, else she would still be with us, we thank God for giving her to us, she was a gift, so precious, what a treasure to have known her, each day we will miss her smiles and her laugh, now she has legs to run with, a new heart, and she breathes freely from the life of God, Job said, the Lord giveth, and the Lord taketh away, blessed be the name of the Lord.
---
LINKS
BACK TO PAGE 1
GOT JESUS?
Rebecca's Family

Last Update Page:
First page pictures:
Second Page Pictures:
Third Page Pictures:
PICS4
PICS5
PICS6:
---

visitor #

---

1244 Ridge Road
Lawrenceville GA 30043-1244
770-338-7379
---

What is Hydrocephalus?