---
NEXT PAGE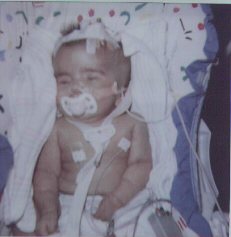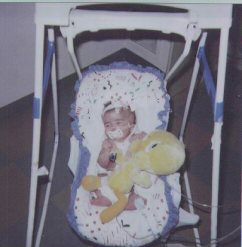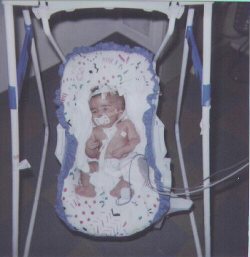 25 June 2000

Here are some pictures from this evening, Rebecca kept yanking out her IV in her hand, so they stuck it in her head(ouch!).SHe has it for 3 more days and then her antibiotics should be done. She was resting quietly in her swing. Not in a very happy mood, but not upset either. Jenn and I will spend all night Tuesday with her. I plan to spend more time in her room. Just observing.

27 JUNE 2000

I stayed with Rebecca until 3 AM this morning, I am about to leave to spend the night with her. She was in a very good mood today. A couple of smiles. Her stats were very good and her heart was running smoothly. She is in very good hands, the Lord watches over her.
---
28 JUNE 2000

It was an interesting night with Rebecca, she slept mostly, I slept sort of. There were a lot of things to do, I mostly watched them being done. This evening however was a little different. I drew up all of her medications and gave them to her, also her feedings. i also checked her stomach by drawing out all the residuals in it to make sure her tube was in her stomach. She sat with me for a while. Jenn and I talked to Dr. Videlefsky (the correct spelling)he will talk to Dr. Tam to see if it is wise to move up the open heart surgery. The PA band will have to be loosened or removed soon. He wants to see how Dr. Tam feels about surgery. I have recieved multiple e-mails about sons, daughters, neices and nephews who have all had this surgery, and they are all teens or even older now. With medical progress what it is today, we are confident. With the Lord God watching over her, we are sure.

29 JUNE 2000

Rebecca is off of her oxygen! It is easier to hold her with one less wire or tube dragging behind. She was doing well, but has a little red spot on the corner of her eye, it drains a little, probably a blocked tear duct. She has been quiet, and whe she gets upset it lasts but a few moments. This is a good sign to me. We are ever grateful for your prayers, God Bless and Thank You!
---
1 JULY 2000

Rebecca has her IV out now, once again, one less wire dragging behind her, she now has only a pulse oximeter and a cardiac monitor.

3 JULY 2000

Rebecca has been doing very well these last days. She is now in a crib! She has had no episodes. Rebecca has a little trouble being held, she does not tolerate it well as it makes it a little harder for her to breathe, she loves to be held any way.These pictures are from this morning.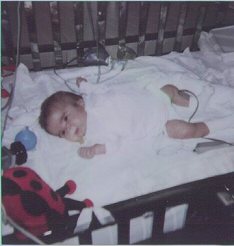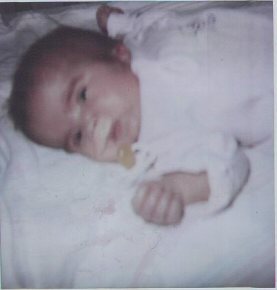 4-5 JULY 2000

I spoke with Dr. Leigh on the 4th, we were planning on bringing Rebecca home on Thursday. Today the date has been moved back to Friday. We will stay Thursday night all night, except ALL of our sitters have abandoned us. We will try to work that out. The home visit nurse company we had for one day has decided not to take us on again, since Rebecca's case is too "involved", so we will have to go through another day of training, since each company's monitoring equiptment is different. It will be busy around here I am sure.
---
6 JULY 2000

This has been an interesting day. We got a call from the Hospital this morning, It seems all the other nurse companies said we needed private duty nursing,(which insurance won't pay for) a nurse which stays a set number of hours. I was to stay tonight and learn whatever new equipment they might have. So Rebecca would come home Saturday, we were rushing around trying to find babysitters and so forth. The Hospital calls again and says they could not possibly get a private duty nurse by Saturday. Rebecca can't come home without one they said. OK, no problem, Monday then, but wait, there's more, Dr. Videlefsky calls next. He had taken an echo this morning, and the PA band is way to tight, it could possibly rupture the right heart, so therefore tomorrow Rebecca is being transported to Egelston Children's Hospital for open heart surgery, the only problems could be a kidney infection, other than that Dr. Tam will see her tomorrow, and we should get a much clearer picture of what is happening.

7 JULY 2000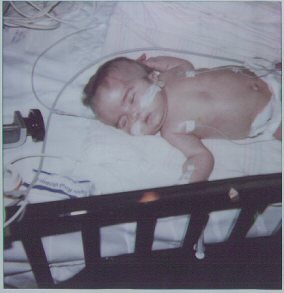 Rebecca is back on oxygen, just a little boost, and she has an IV again, due to the little fevers she has been having. Dr. Tam is not at Egelston today, so Rebecca did not get transported yet. He needs to be there. Because when they do the cath, and it is positive (it will be)he must perform the surgery. Jenn and I thank each of you for your continued prayer, you bless this family more than you know.
---
8 JULY 2000

We went in today with Jenn's Mom. Rebecca was sleeping soundly, her heart was beating slowly under no strain, the nurses asked us not to wake her, so we stayed for a while and quietly watched over her.

9 JULY 2000

Rebecca was asleep again. She was smiling in her sleep, her breathing was slow, she was at rest and not in pain.

10 JULY 2000

Rebecca was wide awake this evening. A surprise. I held her and talked with her. She was pretty non-commital, until I tried to put her down, she didn't like that. Eventually she was laid down, I put a cool fan on for her. I had her Tweety bird doll talk to her, it seems Tweety is getting all the smiles. I put some things up for her to focus on, and went home. She is still in Gwinnett, there seems to be no room in Sibley Heart Center at present. Each day allows her to grow a little stronger though.
---
12 JULY 2000

Very early this morning(1:30 AM)I went in to see Rebecca, it was daytime for her. I held her and we rocked for a while. When I layed her back down, I was able to play with her. She held my fingers with both hands, I would shake her little arms and she would smile and kick her feet. She has never wanted to play before, we are very encouraged. Tonight she was sleeping, just a little restless, but mostly just still and calm. There is still no word on when she is going to Egleston, she has been waiting one week, but she doesn't mind the wait, we think. So we will wait on the Lord ourselves.
---
16 JULY 2000

Everything has been pretty much the same with Rebecca, she is tracking with her eyes, seems genuinely happy to see us, and she loves to be held. The word is that she will be going down Thursday to Atlanta, there is nothing in the charts but that seems the general concensus. Although tomorrow being Monday, she may be re-evaluated as well. As always we will wait and trust only in the Lord.
---
NEXT PAGE

---
---
Links
BACK TO PAGE 1
GOT JESUS?
Rebecca's Family

Last Update Page:
First page pictures:
Second Page Pictures:
Third Page Pictures:
PICS4
PICS5
PICS6:
---

visitor #

---

1244 Ridge Road
Lawrenceville GA 30043-3811
770-338-7379
---
THE HEART

Atrial Septal Defect

Ventricular Septal Defect



What is Hydrocephalus?