When you lock your keys in your car, you have several choices as how to get back in.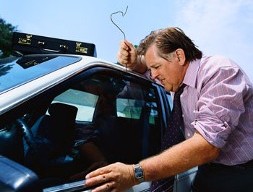 You could do it yourself
, you could have a friend attempt it, or you could call one of several different people. A police officer, a tow truck driver, or even a parking lot attendant.
YOU SHOULD CALL A LOCKSMITH.
Auto makers are making it harder and tougher for thieves to break into your car, which makes it harder for anyone to get into your car without a key, a good thing too.
Locksmiths are trained professionals, we have special tools, designed to open locked cars without damaging the interior of the door, pulling or bending the linkage rods, breaking the glass or damaging the door electrical system, sometimes this could cause a fire and actually destroy your auto. When a locksmith arrives to open your car, he knows what he is looking for and will not randomly poke around in your door cavity tearing away wires, breaking glass, or the lock itself. You will be on your way quickly.
Good Locksmiths are bonded and insured, which means if any damage does result, it will be taken care of quickly. It is a good idea to ask if your local locksmith is insured, for your protection.
A police officer can enforce the law, or write a ticket and guard the public safety.
A tow truck driver can tow you home, even give you a jump start. A parking lot attendant or security guard can keep the parking lot safe, even help you with your packages. All of these people are trained in their jobs, and most do them well, but most of these people are NOT TRAINED TO UNLOCK CARS. If one of these people damages your car, in most instances there is no recourse, a $45 to $65 locksmith charge is preferable to $150 to $600 (more if your car catches fire from broken wiring) to repair your door or replace the glass. It is possible one of these people can actually open your car, but you don't know for sure. With a Locksmith, you know you are getting a trained professional.
Play it safe, call a Licenced Locksmith